Ethics & Boards'
International Observatory

The first International Observatory of the Governance of Listed Companies:

- Monitors governance indicators daily,
- Updates international Board of Director changes daily,
- Conducts regular studies for institutions, press, media and companies.

Our Press
Media Numbers

Ethics & Boards
Governance Analytics

Subscribe and access the governance indicators and ranking of listed companies (Board Composition & Compensation, …).
26/07/17
Weekly Governance Ratio of 21 July 2017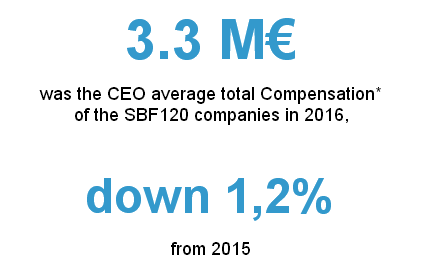 3.3 M€ was the CEO average total Compensation* of the SBF120 companies in 2016, down 1,2% from 2015

* Excluding TECHNIPFMC of which the 2016 annual financial information publication date has not been communicated following the merger of the company in Jan. 2017; SES / APERAM which don't disclose information on CEO Compensation.